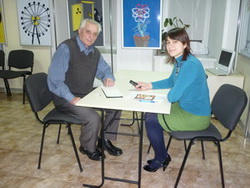 The breakdown happened on the Chernobyl nuclear power plant on the 26th of April is the largest technogeneous catastrophe in the world the consequences of which are not still overcome. Every next anniversary of this tragedy makes the world recall not just about ecological consequences of the reactor destruction, but also about people, whose life was completely changed by this catastrophe.
Chernobyl Archive, created on the initiative of Chernobyl History Workshop, is to keep and share the memories of Chernobyl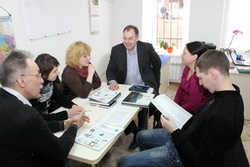 tragedy, its consequences and also aimed to collect and save the life stories of the liquidators of the ChNPP breakdown and people suffered because of the catastrophe in order to make them available for educational and research goals. The liquidators' interviews and memories, collections of graphic and designers posters, pictures, collections of students' competitive works on Chernobyl theme, different photographs, given for keeping by the liquidators and displaced persons are kept in Chernobyl archive. The archive also contains unique printed issues, photo albums dedicated to Chernobyl.
Oral History Archive is a composite pert of the archive in which there are more than 200 oral-historical interviews and essays of liquidators, evacuated and displaced people, The creation of Oral History Archive became possible thanks to close collaboration between Chernobyl History Workshop and Ukrainian Association of Oral History.
The team of Chernobyl History Workshop continues to fill the archive fund and is interested in expansion of the geographical base of the respondents and invites non-governmental, scientific and educational institutions for collaboration in this important task of collecting the stories of chernobyls for the assistance in keeping memory about this terrible for all the mankind tragedy.