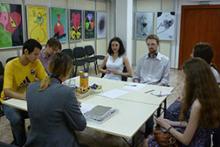 The volunteers take an active part in the work of Chernobyl History Workshop.
They are involved in giving assistance to the liquidators during the preparation of documents for handing in the state structures and courts, in collecting memories of the liquidators and displaced persons for creating the Oral History Archive in electronic version, in the organization of socially significant events.
In addition, the volunteers visit houses of chernobyls, help them to arrange a daily life, and if it is necessary they accompany people to see a doctor. Many volunteers are the same liquidators of the accident at Chernobyl NPP, whose desire and state of health allow helping people with similar destiny.
Chernobyl Historical Workshop pays a great attention to professional training of volunteers, conducts various trainings and seminars with the help of leading specialists for them.