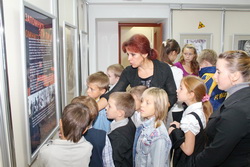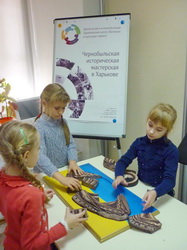 The educational activity is one of the main directions in Chernobyl History Workshop function. As European centre of culture of memory, which collects and keeps the memories of the liquidators of Chernobyl accident and displaced persons, the workshop organizes meetings of young people with the witnesses of these tragic events during which they tell about their work on the breakdown elimination, about their feelings during force resettlement from the zone of radiation pollution and the way the Chernobyl catastrophe has changed their lives.
An updated version of the exhibition, which contains the information on the accident at the 4th block of Chernobyl Nuclear Power Plant, its consequences, the problems of modern life in the regions contaminated after the accident, as well as the prospects for an efficient, balanced energy policy is placed in Chernobyl History Workshop. The excursions are held by Kharkiv liquidators of the accident at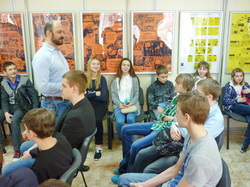 Chernobyl NPP, who supplement the story with their memories of staying on liquidation works.
Besides, the thematic exhibitions, different education seminars and trainings directed to the development of the potential of the participants are hold in the workshop.
Excursions and meetings with the participants of liquidation of the consequences of Chernobyl NPP accident and displaced persons from the polluted zone are available from Monday to Friday from 10:00 to 17:00 due to prior arrangement.