Chernobyl History Workshop – 5 years!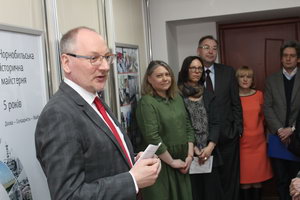 On the 24th of April 2017, Chernobyl History Workshop was celebrating its 5th anniversary from the day of the opening. More than 70 people, among which we could see the representatives of different Chernobyl Unions and nongovernmental organizations, came to congratulate the Workshop on this event. The partners of the Workshop including Renowabis (Germany), GIZ (Germany), Greencubator (Kiev), Charitable Foundation "Caritas", International Renaissance Foundation, EUFRAK, "Modern Woman", "Nuremberg House", the representatives of various religious confessions were present. Tatiana Gavrish, the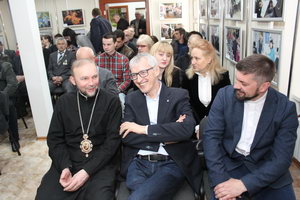 Honorary Consul of Germany in Kharkov, read out a welcoming speech of Consul of Germany Wolfgang Messinger has underlined that activity of the Workshop is making a great social and cultural contribution in the construction of civil society.
In her opening speech, Lubov Negatina represented all the guests, summed up all the work of the Workshop during its 5-year existence and also told about the tasks and goals of first priority for Chernobyl History Workshop activities.
Dr. Astrid Sahm, executive director of the International Educational Centre, Dortmund (IBB Dortmund), has emphasized that the Centre is a partner of Chernobyl History Workshop and it gives a great support in the realization of projects and holding of the events intended for the strengthening of social dialogue.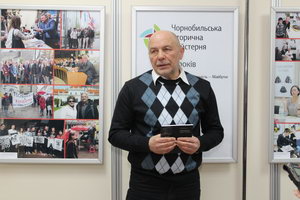 Anatolij Gubarev, the chairman of Kharkov Municipal Public Organization "Chernobyl Union", has told about Chernobyl History Workshop fundamentals. He noted the significant role played by the Workshop in the life of chernobyls, including support for liquidators and displaced persons' widows.
Chernobyl Archive of Oral History was presented on this event. The head of the archive Viktoria Naumenko observed the uniqueness of this archive intended to save and share the memories of people suffered because of Chernobyl nuclear power station disaster. She also has paid attention to a special role of historical interviews with liquidators and displaced persons for the whole society.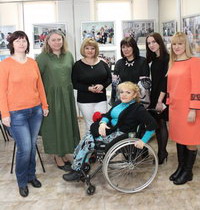 The representation of the book "Chernobyl: sketches from the life" was one of the main events of the day. The author of the book – Oleg Veklenko, the liquidator of the consequences of Chernobyl nuclear power station breakdown, is the head of the association of designers «The 4th Block» and the professor of Graphic Design Department in Kharkov State Academy of Design and Fine Arts. Oleg Veklenko confessed that participation in European Weeks of Memory in France, where he had been sharing his experience of staying in Chernobyl zone, inspired him on writing this book.
The team of Chernobyl History Workshop expresses a great gratitude to all the partners for successful teamwork and is ready to further effective cooperation.