Presentation of media center conception for people with visual impairment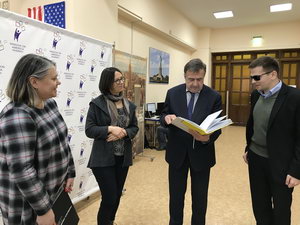 On 20th December at V.N. Karazin Kharkiv National University, the presentation of the concept of a resource media center for people with visual impairments was held. The media center is an inclusion fundamental venue for the development of educational competences, support and maintenance of young people with visual impairments. Media center presentation became the final stage of the project "Raising of chances for getting education for young people with disorders of sight" realized by Chernobyl History Workshop during 2017 in the partnership with nongovernmental organization "Right of choice" under International Educational Centre of Dortmund support and under Ministry of foreign affairs of Germany financial support.
Rector of V.N. Karazin Kharkiv National University Vil Savbanovich Bakirov, who participated in the event, emphasized the importance of the project: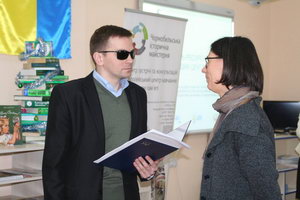 "The issue of inclusive education is at the center of public attention today. We have not done much to our students who have vision disorders and other problems to feel comfortable in the university and to be able to confidently master the knowledge and simply live a full life like all other students do. We will do everything possible to develop inclusive education and create acceptable conditions for learning for everyone."
Astrid Sahm, executive director of the International Education Center of Dortmund, noted: "The principle of inclusiveness is the approach of our International Education Center. We believe that education should be accessible to everyone, and we have designed this project just to help promote the introduction of inclusive education in Ukraine." Astrid Sahm also stressed that it is important to make products with a universal design, which can be used by all people, rather than individual categories for people with disabilities.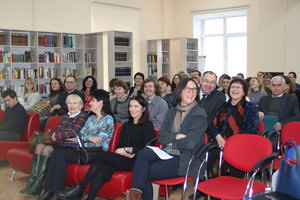 The books with a universal design using Braille for the blind designed and published within the project were presented during the event. Gwara Media, young designers from Kharkov Design Academy and printing house "Madrid" took part in the development and publishing.  
Lecturers of Kharkov leading educational institutions, where students with visual impairments study, blind teachers, visual impairment specialists, students, everyone who promote real implementation of inclusive education in Ukraine, actively discussed the concept of the media center for people with visual impairments and existing problems in the implementation of inclusive education.
The possibilities of using the local navigation complex for the blind through the audio beacon light system developed by Igor Kushnir, the head of the educational and information computer center of the Ukrainian Society of the Blind, and Yevgeny Artamonov,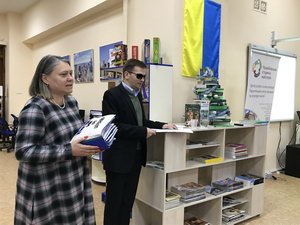 the head of the Innovation Technologies Laboratory of Kiev National Aviation University were demonstrated on the presentation.