Chernobyls' meeting with Pope Francis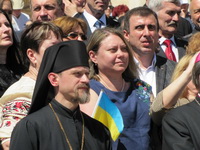 (April 2106)
Since 2012 the International Educational Centre, Dortmund (IBB) in the cooperation with the partners from the International Chernobyl Network conducts European Memory Weeks "For Future after Chernobyl and Fukushima" every year. The key moment of these weeks is meeting of European young people with the participants of those events from Ukraine, Belarus and Japan. The witnesses tell about their work on liquidation of the consequences of Chernobyl catastrophe, resettlement from the zone of enhanced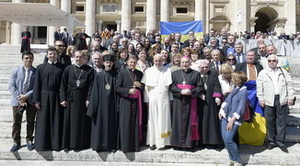 radiological control or the consequences of Fukushima for local people. In these discussions the young people have an opportunity to realize the danger of nuclear energy, to understand the necessity of the development of stable policy of energy. Chernobyl History Workshop coordinates the participation of Ukrainian organizations and recommends the liquidators and displaced persons for taking part in European Memory Weeks.
On the 20th of April 2016, within a palmer trip to Rome timed to the 30th anniversary of Chernobyl catastrophe, the meeting of Ukrainian liquidators' delegation and people suffered because of the ChNPS breakdown with Pope Francis took place. This trip to Vatican was organized under "Renovabis" financial support, Ukrainian Roman-Catholic Church, Ukrainian Greek-Catholic Church (Ecology agency) and the International Educational Centre, Dortmund.
Pope Francis addressed to chernobyls with a separate greeting in which he expressed his gratitude and acknowledgment for their actions directed to reducing the consequences of the Chernobyl catastrophe.