Raising of chances for getting education for young people with disorders of sight
(March-December 2017, under Ministry of Foreign Affairs of Germany financial support)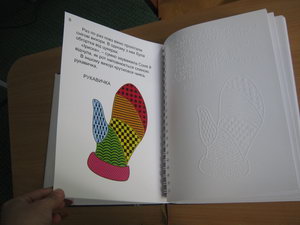 Chernobyl History Workshop in cooperation with non-governmental organization "Right of Choice" under the support of Ministry of Foreign Affairs of Germany and the International Educational Centre of Dortmund realizes a project directed to the development of inclusive educational environment in Ukraine. The main aim of the project is the assistance in the creation of inclusive educational environment for young people with disorders of sight.
Untill the present moment about 100000 people with disorders of sight live in Ukraine, among them approximately there are approximately 11000 children and teenagers under 18 years. 35 specialized schools for children with visual disorders of sight work in Ukraine, and also there are 6 schools for blind children. However, more and more parents of children with disorders of sight want their children to have an opportunity to get education in the inclusive environment. This will not just raise the opportunity of the children to get higher education but also it will help to integrate into the society.
The work on the project is conducted by 3 directions:
Creation of media-centre for giving support to students with disorders of sight in studying and everyday life.
Raising of social assistance in the realization of inclusive events for the improvement of the position of people with disorders of sight.
Creation of new employment opportunities for young disabled people by means of social enterprise development.
The consultancy centre for young students with disorders of sight, members of their families, teachers and other interested people will be opened in Kharkov during the realization of the project. Different educational events, including seminars, trainings, and summer schools (also international) will be conducted for the young people with disorders of sight, their parents, volunteers and other people who work with children with disabilities. A special volunteer service will be created to accompany the students with disorders of sight.
Besides, the project provides for the organization of social actions directed to the development of infrastructure adapted for people with disabilities (for example, adaptation of public transport system) and will assist to improve the living conditions for people with disorders of sight. The operating social enterprise "Sotsintel" specialized in publishing of Braille script books will get the support for improvement of its marketing conception for development and attracting the new orders (e.g. from restaurants for printing menu with Braille script) within the project.
 The current project will allow to improve the educational environment for young people with disorders of sight; will provide them with new opportunities for their self-realization and successful integration into the society and also strengthening the cooperation between active representatives of non-governmental organizations dealing with the problems of disabled people.