Vilcha – the resettled village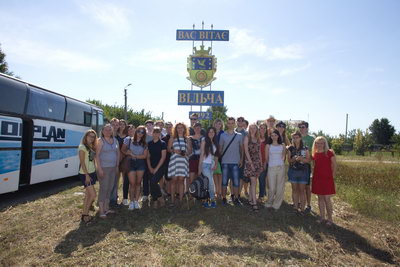 In partnership with Ruhr University, Bochum (Germany) and Ukrainian association of oral history, Chornobyl History Workshop realizes the project "Vilcha – the resettled village". The project is carried out within "MEET UP! German-Ukrainian youth encounters" under financial support of the foundation "Remembrance, Responsibility and Future" (EVZ). The head of the project is Ph.D. Viktoria Naumenko, the coordinator of the German group – Ph.D. Olena Petrenko, the coordinator of the Ukranian group – Ph.D. Svitlana Telukha.
MEET UP! is an international programme of experience exchange between active young people of Germany and Ukraine. Within meetings, opportunities to work on a project in the field of historical and political education, German-Ukrainian relationship, nonviolence way of settlement of conflicts and other topical problems of the present time are provided.
The aim of the project "Vilcha – the resettled village" is to research the experience of forced resettlement from Chornobyl exclusion zone and from the territories of Anti-Terrorist Operation Zone (Donetsk and Luhansk region). The research has been conducted on the evidence from Vilcha community.
The Crimea annexation and military operations in Donetsk and Luhansk regions have to lead to the appearance of more than 2 million of internally displaced persons. Due to this, adaptation problems in new place of living emerged for IDP's. Ukraine has another experience of forced resettlement – after the accident on Chernobyl Nuclear Power Plant happened in 1986, approximately 300 thousand people were resettled in new places of residence all over Ukraine.
Vilcha of Kharkiv region is a village built at the beginning of 1990th especially for the resettlement of Vilcha of Polissia district of Kiev region residents. The village Vilcha in Polissya was included into the zone of absolute resettlement because of the Chornobyl catastrophe. When the military operations started in Ukraine in 2014, the residents of Vilcha of Kharkiv region welcomed the resettlers' families from the zone of military conflict. Chornobyl experience of first resettlers helped in the adaptation and integration of present-day's resettled people. Young people from German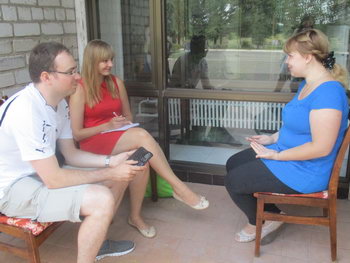 and Ukraine research those very aspects of the interaction between "old" and "new" resettled people within MEET UP! programme.
The participants of the project are conducting audio- and video-interviews with the resettled living in Vilcha, and are preparing photographic and video materials. The film about the present days of Vilcha will be created on the results of the project. Also, a historical album "Vilcha – the resettled village" will be published. The album will tell about the village history and will contain interviews with its residents.
The project will favor commemoration for a unique experience of resettlement from the zone of the absolute resettlement because of the ChNPP accident, using this experience in modern conditions and also share this important historic experience from older generation to younger one. The realization of the project will help to understand the problems existing in communities, where the resettled people live, more deeply. This will incite to search for solutions to these problems.